This artisan kitchen uses a mix of new and traditional techniques to create plant-based cheeses that are produced by hand in small batches. Their 'not cheeses' are given extra notes of flavour with herbs, spices and various tasty gems found in the plant kingdom. I appreciate having some of their not cheeses in the fridge or cupboard.
My family loves their Oh, Grate! sprinkled over pasta dishes and salads. I use one of their melting not cheeses, such as Meltdown Smoky or Bluffalo Notzzarella, when making my Herb and Tofu Cannelloni or as the final touch just before serving my Hot Mushroom Open Sandwich.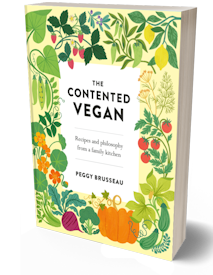 THE CONTENTED VEGAN is a complete guide to the emerging vegan lifestyle. Based on two decades experience of raising a vegan family.
I don't know if you find it hard to remember web links that are impossibly long and full of gobbledygook?
If you are, then I've got some good news…
We've made it incredibly easy for you to share a link to my book with your friends – in a way that doesn't require a degree in programming!
Simply give them this link–
"get.veganbook.today"
No www or anything else – just get dot veganbook dot today. That'll do the trick – try it!