Spice of Life Meatless Meats & Jerkies
Spice of Life meatless meats and jerkies are Vegan… Wheat Free… Cholesterol Free… Hormone Free… Chemical Free… Sugar Free… Certified non-GMO. The jerky can be eaten straight from the packet and is known to assist coeliacs, diabetics, low sodium dieters and athletes, such as founders Spice Williams-Crosby and Gregory Crosby, who require additional protein.
Spice shared her expertise when she took part in the launch of The Contented Vegan – a wonderful conversation hosted by Book Larder.
Spice holds two Masters degrees – one in Fitness Science and the other in Holistic Nutrition – and a PhD in Natural Health Sciences. She is a nutritional expert writing for magazines such as Ms. Fitness, Natural Muscle Magazine and World Black Belt. She promotes veganism and a healthy lifestyle.
Spice is also a Hollywood actress (Vixis, the muscular female Klingon officer in Star Trek V and many other roles) and stunt-woman (she has hung from a helicopter 350 feet off the ground and is also a stunt coordinator). She has created a niche for herself in roles for female warriors, wrestlers, and super-heroines.
She holds a 3rd DAN in Arjukanpo, 1st DAN in Eskrima, and is Certified Level B in Israeli KAPAP, Security Defensive Tactics, and GIKA in Guatemala. Recently, Spice has been working on a project to help women take their power back when attacked. This has resulted in her producing her own show – I Fight for My Life – turning women victims into women victors!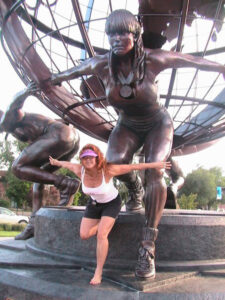 One of her greatest honors was posing for a 30ft bronze statue where she represents the past, present and future female athletes of the Olympics.
Spice's goal is to continue to set an example for the 'women of the new millennium' – spiritually focused, mentally alert, and physically capable.
Spice is amazing: a truly inspiring person.
Check out Spice's website here, her Facebook page here, and her Instagram here.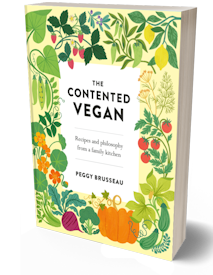 THE CONTENTED VEGAN is a complete guide to the emerging vegan lifestyle. Based on two decades experience of raising a vegan family.
I don't know if you find it hard to remember web links that are impossibly long and full of gobbledygook?
If you are, then I've got some good news…
We've made it incredibly easy for you to share a link to my book with your friends – in a way that doesn't require a degree in programming!
Simply give them this link–
"get.veganbook.today"
No www or anything else – just get dot veganbook dot today. That'll do the trick – try it!