The Green Organic Gardener Podcast
I felt I was with Jackie in her garden when I spoke with her! I'm sure we talked about one hundred different topics. Just what I needed. A whole, plant-based diet is a natural match for anyone with an organic garden. We talked about allotment and community gardens, seasonal foods and how what you eat affects wildlife and local habitats. Jackie definitely likes hedgehogs and I'm keen on bees. A pity we live on different continents! I hope to check in with Jackie again around harvest time.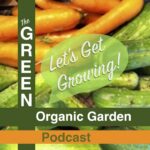 You can listen to Jackie's podcast here.