Karina Inkster's NBSV Podcast
Karina is a vegan fitness and nutrition coach, also specializing in health and aging. She advocates the scientific, 'myth-busting' approach to health, fitness and nutrition. Our shared interests are obvious! You can listen to our conversation here.

We certainly were agreed that food can be your medicine when you select for high nutrient and phytochemical values. My mantra is 'Eat a variety of plant-based foods that are whole, organically or locally grown and in season where you live.' I use this sentence over and over because it sets out the Four Cornerstones (underlined) to building a healthy vegan diet.
I think knowledge of nutrition is very important, but it has to translate into real-life! My personal experience has taught me that a sense of food quality can mesh neatly with the nutritional data. When we discussed tools that could make building a healthy diet easier, I introduced The Twelve Vegan Food Groups, which is outlined here on my website. The Twelve puts foods into groups according to the way we actually see them when we are out shopping for food. No need to bring a calculator!
We also spent some time talking about the 80/20 Rule, which helps guide a gradual, healthy and contented transition to a plant-based way of eating.
I enjoyed talking with Karina, whose fourth book was published the day after we spoke. Congratulations, Karina!

https://www.karinainkster.com/podcast
The show is available on Apple Podcasts, Spotify, Google Podcasts, Stitcher, and all other major podcasting platforms.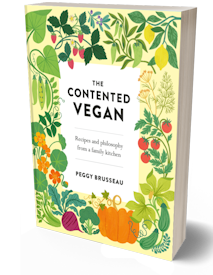 THE CONTENTED VEGAN is a complete guide to the emerging vegan lifestyle. Based on two decades experience of raising a vegan family.
I don't know if you find it hard to remember web links that are impossibly long and full of gobbledygook?
If you are, then I've got some good news…
We've made it incredibly easy for you to share a link to my book with your friends – in a way that doesn't require a degree in programming!
Simply give them this link–
"get.veganbook.today"
No www or anything else – just get dot veganbook dot today. That'll do the trick – try it!