I spoke with Larissa and Vickie and at least one of their companion animals! They live up to their promise of 'a peaceful place for vegetarians, vegans, and the veg-curious.' Browse through their archives and you will see they are not shy of dealing with all manner of plant-focussed topics. Put them on your 'go to' list of supportive and informative resources. I will definitely stay in touch.

Listen to their show here!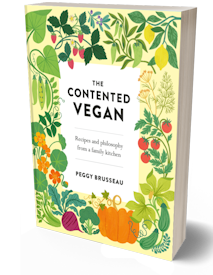 THE CONTENTED VEGAN is a complete guide to the emerging vegan lifestyle. Based on two decades experience of raising a vegan family.
I don't know if you find it hard to remember web links that are impossibly long and full of gobbledygook?
If you are, then I've got some good news…
We've made it incredibly easy for you to share a link to my book with your friends – in a way that doesn't require a degree in programming!
Simply give them this link–
"get.veganbook.today"
No www or anything else – just get dot veganbook dot today. That'll do the trick – try it!