The soya bean is an amazing food, but it doesn't suit everyone! Not a problem! Here are some menu ideas that can be used to satisfy the hungry athlete as well as a person with allergies.
Breakfasts
Fruit juice & your favourite hot drink:
Coffee: espresso, black or cappucino [made with oat or almond milk]
Tea: herbal, green or black, with oat milk added if desired
Hot Chocolate [made with oat, almond or coconut milk] and dark chocolate powder
Select from:
1. Coconut yogurt topped with muesli, fresh berries and chopped banana
2. A bowl of steamed brown rice with toppings of nori flakes, freshly ground flaxseed, flaxseed oil, nutritional yeast flakes, salt and pepper
3. Toasted wholemeal bread drizzled with hemp or olive oil; thinly spread with yeast extract or jam
4. Porridge made with oat, almond or coconut milk, chopped dates and a pinch of cinnamon
5. Potato slices sauteed in sesame oil, with grilled mushrooms and tomatoes, a serving of baked beans and a slice of wholemeal toast
Lunches
Fruit or vegetable juice
Fresh or dried fruit, to follow
Select from:
1. Pitta stuffed with chopped salad, hummous, tahini sauce and falafel
2. Sushi filled with avocado, sweet peppers, cucumber and pickled turnip
3. Lentil and vegetable soup with wholemeal toast and mushroom pate
4. Deluxe salad of lettuce, chopped basil and mint, tomato, radish, red onion, grated carrot, capers, crouton, avocado chunks and vinaigrette dressing
5. Sandwich selection: avocado, basil leaf & cucumber; peanut butter & barley malt syrup; lettuce, grated carrot & sauerkraut; bean pate, mustard & pickle; tahini, sliced banana & flaked almonds
Snacks
Fruit or vegetable juice
Favourite hot drink, as above
Select from:
1. A handful of nuts and seeds, such as almonds, pumpkin or sunflower seeds, walnuts or hazelnuts
2. A smoothie made with almond or coconut milk and a mixture of fruit and vegetables
3. A selection of dried fruits such as apples, dates, figs, pears, apricots, bananas and mangoes
4. A small plate of raw vegetables such as carrots, cucumber, tomato, courgette and cauliflower with a simple dipping sauce or portion of hummous
5. Seeded oatcakes spread with olive tapenade or mushroom pate
Dinners
Mineral water
Organic wine or beer
Select from:
1. Couscous topped with chickpea and vegetable stew
2. Spaghetti or penne with Arabiatta sauce and a side of green salad
3. Roast potatoes, carrots and parsnips with gravy, peas and steamed Brussels sprouts
4. Vegetable curry with pilau rice, dhal, spicy greens and poppadoms
5. Buckwheat noodles with stir-fried vegetables and spicy peanut sauce
Desserts
Favourite hot drink, as above
Select from:
1. Fruit sorbet with a drizzle of rosehip or pomegranate syrup
2. Baked apples with raisin and cinnamon filling
3. Home-made vegan chocolates
4. Lemon and poppy seed cake
5. Coconut cream pie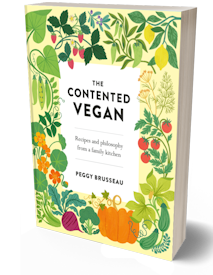 THE CONTENTED VEGAN is a complete guide to the emerging vegan lifestyle. Based on two decades experience of raising a vegan family.
I don't know if you find it hard to remember web links that are impossibly long and full of gobbledygook?
If you are, then I've got some good news…
We've made it incredibly easy for you to share a link to my book with your friends – in a way that doesn't require a degree in programming!
Simply give them this link–
"get.veganbook.today"
No www or anything else – just get dot veganbook dot today. That'll do the trick – try it!